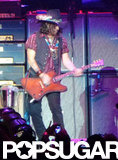 Johnny Depp
took the stage at the Staples Center to accompany Aerosmith for a few songs during their LA show last night. He showed off his guitar skills alongside pal Steven Tyler. Johnny and Steven's collaborations were memorialized on Aerosmith's latest album, last month's
Music From Another Dimension!
, which included backup vocals from Johnny.
Johnny hasn't been shy about getting in front of concertgoers recently - last Thursday,
Johnny joined Alice Cooper
for several songs during his show too! Johnny's using his downtime to focus on music after finishing up filming his latest project,
The Lone Ranger
, set for release in the Summer of 2013.
Love Ya Bunches